Sunday, March 13, 2005
Carpet Buying Revelation
It's been four months since I've bought a carpet and I desperately need one in my new office. I paid a visit to my main man, Ruslan, who operates Flying Carpet Shop in an underground stone room in the 16th century Hamman (bathhouse) in Baku's Old City.
Ruslan is carpet dealer to most US Embassy staff and US NGO workers here. Initially, I was skeptical. With a client base like this, he hasn't got much incentive to bargain.
Ruslan earned my slavish devotion during a negotiation session when I first arrived. He wanted $650 for two pieces -- a Guba carpet and a Dagestan sumac. I wanted to pay around $500, so I offered $450. He took me aside and quietly punched in three numbers on his calculator --$425.
Never in the history of carpet bargaining has such an effective sales tactic been employed. I wouldn't have been more surprised if he had offered me a vial of crack.
Which, in effect, he did.
Since then, I have sent every visiting friend and casual acquaintance to Ruslan. He pays me back with rock-bottom prices and a keen sense of what I like. He doesn't waste my time showing me Iranian, Afghan or Turkmen samples that he knows aren't as nice as ones I could get in-country.
Besides, he hates Iranian carpets.
"Most Iranians are Farsi," he says with a sneer. "They know nothing about carpets. Its the 30 million Azeris that live in Iran that make good carpets." He's probably right, except for 30 million number.
Azeri carpets are an acquired taste. I have taken to them like an addict to crystal meth. I purposely avoid the quarter of the Old City that holds Ruslan's shop. His sales techniques are never aggressive, but highly effective.
Yesterday was the first time I've walked in with the intention of buying without actually having done so. Ruslan good naturedly accepted my ambivalence about his current stock and promised to call me when something he thinks I'll like comes in.
Ruslan has a lot of excellent quality new carpets. The knots are tight, colors pleasing and patterns traditional. They are also more expensive because they are made in "factories" (which are probably a single room with a few women sitting at looms all day, getting paid to weave carpets).
These carpets are lovely, but they lack something.
The ones I like tend to be homemade. They might have looser knots and may not lie exactly flat. Their patterns are uneven and don't always match up. They are made, as Ruslan says, "after dark, when the children and the husband are asleep and the woman has time to sit at a loom to make carpet for her daughter's dowry or her son's wife when she moves into the home."
Then, depending on the audience, he launches into his rapturous finale. "These carpets are made with LOVE!" I have seen this technique melt certain visitors.
That's why I think I like my Guba carpet the least. Technically, it's an excellent piece, but it was factory-made and lacks character. My carpet from Lankoran is my favorite, even though its edges bunch up and trip me, it's missing fringe and the animals in its pattern are misshapen. But every time I look at it, I see something new.
I prefer to buy carpets from the people who make them, but most of the time that's not practical. Last fall, however, I managed to buy the horse blanket pictured below from the woman who made it in the mountain village of Lahic. I just got the roll of film with her photo developed.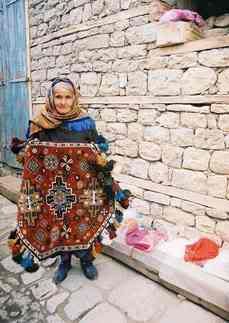 As soon as the snow melts, I want to go up to Lahic and see what she's been working on all winter.
Comments:
I am from Lahic .I can make a carpet myself.Now I am in Baku if you want to write me -my e-mail address-billurab@yahoo.com
Post a Comment
Links to this post:
<< Home