Sunday, March 20, 2005
Absheron Adventure
If there is a more polluted place on this earth I cannot imagine what it looks like.
Some friends and I explored the Absheron peninsula today in the Super Neva (got a map? Know where Azerbaijan is? See that thing that looks like a beak sticking into the Caspian? That's the Absheron Peninsula). It has been the center of oil production in Azerbaijan since the early 19th century. It is an absolutely breathtaking mess.
Near the town of Suraxani
Care for a swim?
We explored fire temples and took unmarked roads through barely functioning oil fields filled with rusting pipes, car frames, trash piles, oil ponds and "nodding donkeys." People live amongst all this debris and devastation in dun colored brick homes. And this isn't just one neighborhood. It's miles and miles and miles of industrial wasteland.
People live among these ruins.
Nodding donkey
We took a causeway to an island just off the shore that's sinking into the rising Caspian. At its northern tip lay the offshore ruins of Soviet-Era derricks and platforms. Some were connected by dirt jetties. We drove as far as we could then stopped for a picnic amid the steel graveyards. It was too windy to sit outside, so we ate our cheese, sausage and mandarins in the car.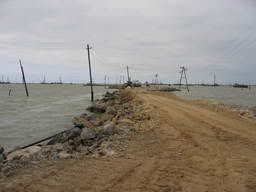 Drive until you can't drive any farther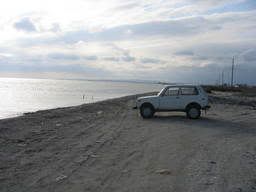 You can't go farther east in a Neva.